Hi there! My name is Amy, and I'm from the United Kingdom. I grew up in the world of dance as I spent most of my childhood dancing and going to the ballet with my grandmother, from London to Paris, so that became a dream of becoming a professional dancer. 
When I left school, I got my ISTD teacher's qualification in dancing. When I started working my life was a juggle of many jobs and being self-employed. By day, I guided aspiring dancers as a dance teacher, and by night, I was making drinks as a bartender. Despite my busy schedule, I was yearning for something more profound and wanted to step into the unknown. 
I took the leap of faith and moved to Brazil to run a farm alongside my partner, who is now my husband. The vibrant greenery and untamed landscapes I was living in was in the heart of nature, disconnected from everyday modern life. This journey taught me to embrace new experiences, connect with different people, and find strength in the midst of the unknown. 
An unexpected turn
Life took an unexpected turn when pregnancy brought forth a new chapter. We moved to a fisherman's village called Macae, where my husband found a job as a roustabout on a drillship. This meant he was away for long periods out in the middle of the ocean, and I was left alone and pregnant.
After our baby girl was born, we decided to move back to the UK to set up a more stable life. After settling in the UK, I fell pregnant again. For a good five years, my time was spent being a full-time mum raising my daughters. When my oldest started school, I became very involved with the school's PTA, helped with school events, and was able to teach dance again voluntarily.
This got me a job within the school as a play leader for lunchtimes, and quickly I was given more roles and ended up running the breakfast and after-school club, organising fun activities like cooking and crafts for the children I took care of. I was even able to complete an NVQ course to become an Early Years Practitioner while running my jobs and earning work experience in the nursery in my spare time. I really enjoyed working with children and being a part of supporting their development. 
From Brexit to Badalona
My husband had a strong desire to relocate to Barcelona, as he had lived there as a child and had always wanted to return. It would be another new chapter, navigating a new culture, language, and lifestyle for me. So I took this leap once more, but this time with children and a big dog, to start a new life. 
Our plan was to move in 2018, but after Brexit was voted on in 2016, we thought it was best to move sooner. We had to get the ball rolling, as we only had a year to do this. We put our house on the market, and we had to navigate the bureaucratic channels to secure temporary residence in Spain, work out how we were going to travel there, and look for a place to live that was affordable and close to the beach. 
That's when we found Badalona, a Catalan haven nestled just moments away from the pulsating heart of Barcelona. It is located on the left bank of the Besos River and on the Mediterranean Sea. We discovered a great spot to reside that is close to the beach and Badalona town. 
"Heaven"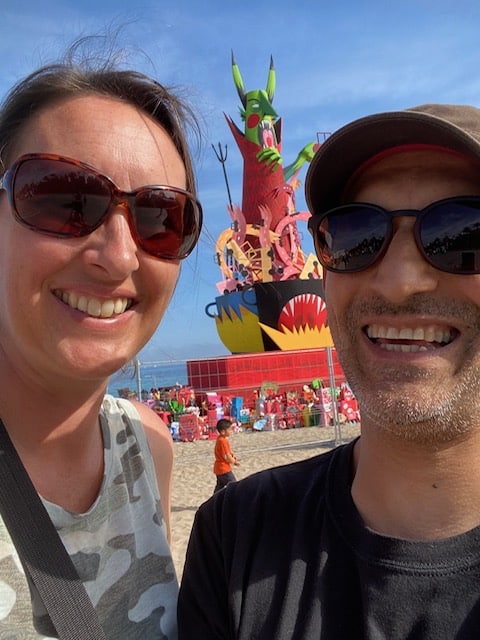 I'm in heaven living here; there's always something going on in town, such as concerts, parties, and festivities. "Festes de Maig" is my favourite. It's an entire month of events that take place, such as the Domini, where they burn a devil on the beach, fireworks, and many more. 
For me and my family, the journey to Badalona was more than just finding a new home; it was about adapting, learning, and finding a place within a vibrant community. My daughters integrated into their new lives, embracing the challenge of learning Catalan and Spanish at their school. 
I had my own journey, taking Spanish classes, immersing myself in this new culture and lifestyle, and finding a job that worked with my family life. It was initially difficult to find work. I considered teaching tap classes, but I needed to speak Catalan for that, and I was still working on my Spanish. Many people advised me to be an English teacher. 
I didn't believe I was capable of teaching English; I could speak the language but didn't know how to teach it! 
Then came TEFL
It's 2020 and I'm turning 40! What can I do with my life? I want to challenge myself and do something that's completely out of my comfort zone. So, I decide I'm going to do The TEFL Org's 120-hour online course . 
That was the beginning of my new career, and I was terrified of it. 
So I purchased it and hoped for the best. I learned a lot through this course and absolutely enjoyed doing it. I got great support from my tutor with my assignments, and I had a better understanding of English. 
So I had my certificate to teach English, but where to find a job during the pandemic? First I tried online schools but a lot of them require a bachelor's degree, which I don't have . So I searched for many English academies in Badalona and began sending my CV to them. I received a response within a couple of days and within a week I had an interview and I was hired! 
My first Job as an English teacher
The first year was difficult as we had the pandemic still going on. Even though I was teaching in a class setting I had to work from home and teach online. I enjoyed working from home but I do prefer the classroom. Now I will be going into my fourth year at the same academy. 
I mostly teach children from 2 to 10 years old and teach at middays and in the afternoons five times a week. I have already organised and hosted my first craft workshop in English and will be doing more workshops in the near future. 
Despite my fears, I am proud to state that I am a successful English teacher; I am passionate about what I do and love helping my pupils grow as they study. If I had the opportunity in the near future, I would love to have my own English school and add my creative side to it.
Want to discover the world of English teaching? Find out which TEFL course you should do with our TEFL Course Quiz .