TEFL Org UK is proud to give back however we can.
Got a project that you'd like to work together on? We'd love to help!
Get in touch and let's chat about what we can do.
Find out below about more about some of the causes we've been delighted to support over the years.
Contact Information
Alan Moir - Sales & Marketing Manager
Tel: +44 (0)1349 800 600
Email: alan@tefl.org.uk
Address: TEFL Org UK, 18 Alexander Place, Inverness, IV3 5BX
Our responsibility
We're proud at TEFL Org UK to help those in our community and in the wider world, not only by training teachers but by giving generously and promoting causes we believe in.
As a business based in the Highlands of Scotland, we have a deep commitment to helping our local community succeed and provide economic opportunity for those living here.
However, we're also a business with an international outlook, we want to help people around the world have access to educational opportunities wherever possible. We've been fortunate to have first-hand experience of the value of education, and we want to share that with as many people as possible..
Our efforts were recognised in 2017 with us being awarded the All Party Committee Group Constituency Responsible Business Champion of the Year award for Inverness, Nairn and Lochaber.
The award was presented by local MP Drew Hendry, and Managing Director Jennifer Mackenzie attended the finalist awards at the House of Commons.
Charity of the Year
For the past two years TEFL Org UK have chosen a Charity of the Year to support through donations and fundraising. The causes we have chosen have both done fantastic work across the world in helping people make the most of educational opportunities, and we're delighted to do our bit in helping out.
Here are the two charities that we have featured so far:
---
2018 - ActionAid
This year we're supporting ActionAid as our Charity of the Year. ActionAid's goal is to support women and girls in developing countries with access to education, training opportunities and fairer working conditions.
We'll be organising and taking part in events throughout the year to help raise money for this fantastic cause. Customers can also help out, by donating either £1, £5 or £10 with any purchase, and we'll match every single donation.
To find out more about the work ActionAid do, visit their website
---
2017 - Mary's Meals

In 2017 we managed to raise over £4,000 for Mary's Meals, who are an incredible charity helping to provide schools meals to children in Africa who would otherwise go through the school day hungry.
Along with cart donations, through which generous donations gave more than £1,250, we also raised money through some incredible endurance feats such as the Loch Ness Marathon and ETAPE cycle event.
---
Want to be our Charity of the Year in future?
If you'd like to be featured as our Charity of the Year for next year we'd be delighted to hear from you! Find out more about how we can work together and how to get in touch with us in our info pack below.
International Projects
We've worked with employers and development projects around the world to help provide teachers and equipment. We want to help access to education around the world however we can.
---
Project Hope 4 Kids
In 2018 we began working with Project Hope 4 Kids, a charity helping to provide support and humanitarian aid to refugees and displaced populations in Greece.
Through this partnership, some of our fantastic and experienced tutors are helping to develop a curriculum for volunteer teachers to follow when teaching young refugees. We've also helped some of the project's leaders gain their TEFL training through our online courses and Teaching Young Learners advanced course.
Learn more about Project Hope 4 Kids and their work
---
Sri Lanka Volunteers
TEFL Org UK has teamed up with SLV to provide pre-departure training for the TEFL Sri Lanka volunteer placement.
SLV are a graduate led, volunteer organisation focusing on ethical and sustainable projects. Once you sign-up to the programme you will complete an 80-hour online TEFL course to ensure you are prepared for the demands of teaching English.
As a TEFL teacher in Sri Lanka, you will be responsible for improving language skills across all ages. The placement is the fantastic opportunity to make a positive contribution to local life, whilst also immersing yourself in a rich and diverse Asian culture.
Learn more about SLV and their voluntary teaching placements
---
Project Mongolia
Project Mongolia is a charitable society based at Edinburgh University. The organisation's main aim is supporting charities who are working with disadvantaged children in Mongolia. This is achieved through various volunteering projects and cultural exchanges, whilst working to increase awareness concerning the poverty faced by many Mongolians at a local and national level.
One of the roles of the volunteers will be to teach English to students. TEFL Org UK has paired up with Project Mongolia, and is enrolling all volunteers on their TEFL (teaching English as a foreign language) courses, which are the most highly recognised in the UK. The qualifications they will receive on course completion will be recognised worldwide. The skills learned on the course will allow the volunteers to develop their teaching abilities and approach, which will result in their lessons being more effective when it comes to understanding student's needs, conducting activities, lesson delivery and classroom management.
---
Naturally Africa
Naturally Africa Volunteers offers medical and healthcare, teaching, sports and wildlife conservation projects in Malawi, Kenya, Tanzania, Ghana, Namibia and South Africa. We train some of the teaching volunteers who go over to these areas and play a vital role in the development of the students involved.
National Projects
TEFL Org UK has helped causes up and down the UK that are important to our team members and to our company's values.
---
Sleep in the Park
Six of our team took part in Sleep in the Park on the 8th December 2017, which was an event to raise awareness of homelessness in Scotland and to raise money for a village of new homes for the homeless.
The event saw the team battle sub-zero temperatures to stay out all night in Edinburgh's Princes Street Gardens along with 8,000 other attendees. We raised £3,330 towards the event's overall goal of £4 million.
---
Immigrant support
We think it's very important to help provide educational opportunities to those arriving in the UK, and we look to provide assistance however we can. We've helped support local Syrian refugees with free English lessons and training for local teachers looking to help improve their level of English.
We have a long history of supporting those looking to teach immigrants. Sandra Campbell and Anne Davies are two women from Aberdeen who began giving free lessons to local immigrants in 2010 after sitting a weekend TEFL course. TEFL Org UK now supports them by donating teaching materials to help with their classes.
---
Barnardo's Scotland
We teamed up with Barnardo's Scotland several years ago, helping to support their work in improving the lives of disadvantages children in communities across the country.
We helped train employees on language awareness and how to present grammar and new language. We supplied them with classroom course training alongside our Online Grammar Course and online Enhance My English courses.
These helped employees to more effectively communicate with and teach the young people they work with on a daily basis, fuelling the young people's understanding and as a result, their future prospects.
Local projects
We're proud to be an international business operating from Inverness in the Highlands of Scotland. We care deeply about our local community, and try to play our part in making life better for those that live here.
---
Highland Heroes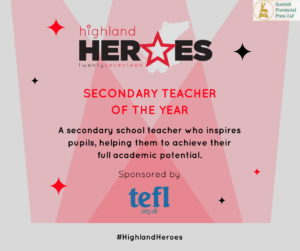 TEFL Org UK was delighted to sponsor the Secondary Teacher of the Year Award at Highland Heroes 2017. The awards were organised by Scottish Provincial Press to reward the most deserving people in the Highlands for their tremendous acts of courage, bravery and goodwill. The awards took place at the Kingsmills Hotel in Inverness on the 9th of November 2017 and the team very much enjoyed attending.
---
Fortrose Academy Coding Club
The IT team at TEFL Org UK helped provide support and guidance to Fortrose Academy's new Coding Club in February 2018, which was set up to provide local students with opportunity to develop their programming skills.
---
MFR Cash for Kids
Cash for Kids is the official charity of Moray Firth Radio and provides a helping hand to disabled and disadvantaged children around the Highlands, Moray and Aberdeenshire.
At the beginning of March 2013, TEFL Org UK donated a TEFL course for their charity auction. The successful bidder was placed on a TEFL course and all proceeds were given to the charity which does fantastic work with children and young people throughout the region who have mental, physical or sensory disabilities, behavioural or psychological disorders, are living in impoverished or deprived environments or are suffering through distress, abuse or neglect.
Business Ethics
No business can be successful without supporting and rewarding its employees, and we're always striving to make sure that we do our best for our amazing team.
We're guided by a core set of values to help make sure that we do the best for our customers and our team.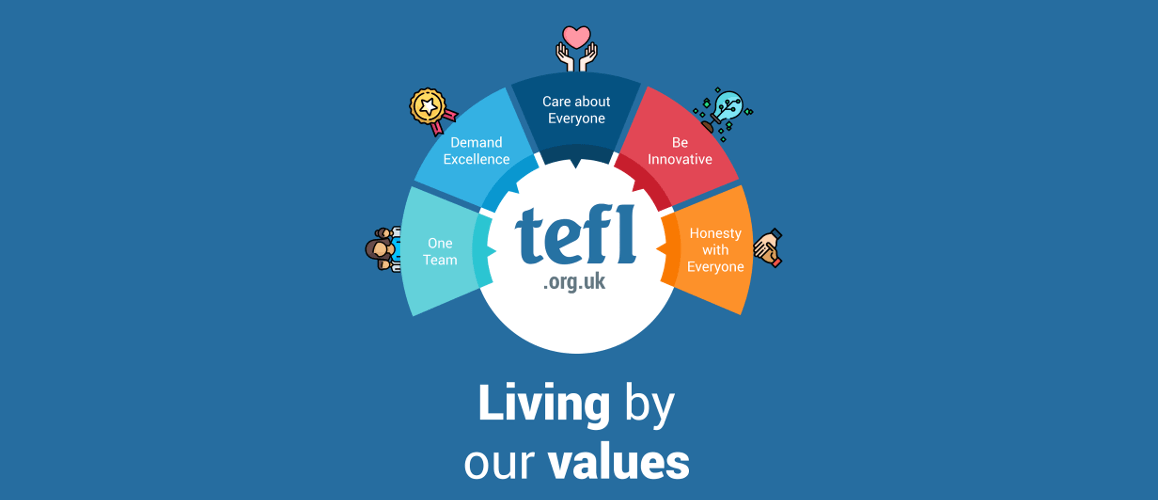 ---
Scottish Living Wage accreditation
TEFL Org UK is a Scottish Living Wage accredited employer, meaning that all of our employees receive a fair wage for their hard work.
---
Investors in People & Investors in Young People accreditation
We're proud to be an accredited Investors in People and Investors in Young People, as we aim to provide our employees with opportunities to further their professional development.
---
ScotGrad
We have been strong supporters of the ScotGrad placement scheme, through which young people receive work experience with us. We've been proud of the role our ScotGrad placement employees have played over the years, with vital roles in each stage of our company's development and expansion.
---
Other commitments
We work with Family Flexible Working Scotland, have signed the Scottish Business pledge, are signed up to the Scottish Government's Partnership for Change, committing us to working towards a 50/50 gender-balanced board by 2020.
We're very conscious of our carbon footprint here at TEFL Org UK. All of our suppliers are local and when you get your TEFL certificate we guarantee that it will be printed on recycled paper! We also make sure that paper in the office is recycled rather than put in the regular bin. TEFL Org UK wants to become more environmentally friendly and we're always looking for ways to do this – suggestions are welcome!
Find out more about TEFL Org UK